All revenue from the cancer hypnosis sessions is donated to Hypnosis Download's nominated children's charity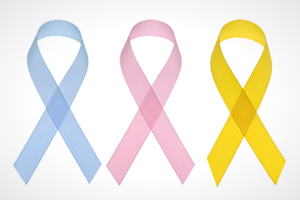 Cancer, in all its forms, is a horrible thing to experience. Treatment is often harrowing and exhausting. Cancer sufferers need all the help they can get.
Hypnosis Download's sessions for cancer treatment support have been carefully developed for use alongside whatever medical treatment is being given. They are NOT intended to replace medical treatment.
What these audios will do is help you manage any anxiety or pain associated with your cancer, or with its treatment, and reduce the negative side effects that all too often accompany the treatment. They may also help boost your immune response, and stay as positive as you can through this difficult time.
The more in control you are, and the more relaxation you get, the better equipped you will be to fight cancer.
All proceeds from the cancer treatment sessions go to their nominated childrens' cancer charities or if medical bills are soaring, you can contact them directly and they say that they will provide your cancer audios at no cost.
A little bit of giving – a power beyond hypnosis
Hypnosis Download's chosen charities
They asked their Facebook followers to nominate a new charity to donate the proceeds from their cancer related downloads, back in 2013. They chose two children's charities based on the suggestions and have been donating twice a year since then.
They donate to World Child Cancer. They are a global child cancer charity with links to St Judes Children's Research Hospital in the US and work in countries such as Mexico, Bangladesh and Cameroon, providing world class expertise, sustained guidance and essential funding.
They also donate to Children's Hospice Association Scotland. CHAS is a charity that provides the only hospice services in Scotland for children and young people who have life-shortening conditions for which there is no known cure. As Hypnosis Downloads are based in Scotland in the United Kingdom, the team agreed with their customers we should also donate locally.
They have donated a total of £14,671 since January 2012 from the sales of the cancer related downloads and scripts (September 2020).
More about World Child Cancer…

When they launched the new series of downloads designed to help people with cancer and the side effects of its treatment, they knew their chosen charity would have to support those who live with long term, serious illness. They took the suggestion from their Facebook followers to donate to the World Child Cancer Organisation.
For any parent, having a child diagnosed with cancer is one of the worst things imaginable. Sadly for many parents in low and middle income countries the diagnosis is made worse as survival rates are far lower than they should be. Whilst in high income countries, survival rates for children are around 80%, in some love income countries, they can be as low as 10%. Quite simply, children are dying because of the knowledge gap between rich and poor countries. Worse still, many are dying without any effective pain relief.
It is estimated that at least 100,000 children die unnecessarily every year from curable cancers because of a lack of diagnosis and basic treatment – all of them in low and middle income countries. Yet with generic drugs and relatively simple medical procedures the majority of them can be saved.
World Child Cancer is working towards a vision of a world where every child with cancer has access to the best possible treatment and care. They work to improve cancer diagnosis, treatment and care for some of the world's poorest children.
They work by creating twinning partnerships linking hospitals in developing countries with hospitals in high income countries. These partnerships create a two-way transfer of expertise and skills to develop locally appropriate and affordable solutions to the problem of child cancer.
They provide funding to support the twinning partnership including drugs, training and mentoring programmes, salaries, improvements to facilities, awareness campaigns and family support.
Visit World Child Cancer for more information…
See a selection of the donation thank you letters from World Child Cancer…
More about Children's Hospice Association Scotland (CHAS) …

Children's Hospice Association Scotland (CHAS) is a charity that provides the only hospice services in Scotland for children and young people with life shortening conditions.
CHAS offers care in two children's hospices, Rachel House in Kinross and Robin House in Balloch. The hospices support the whole family by offering short planned breaks, emergency support, end of life care and a range of bereavement services.
CHAS also provide a home care service, called CHAS at Home, staffed by both hospices and with dedicated teams in the North of Scotland. The service offers care to families in their own homes when they need it most.
CHAS supports over 250 families, as well as a significant number of families who receive bereavement support. The services are funded mainly through the generosity of the many supporters who help raise over £7 million each year to provide these vital hospice services.
Visit CHAS for more information…
See donation thank you letters from CHAS…
Previous donations, thanks to all Hypnosis Downloads customers…
Make a Wish Foundation
From 2006 to 2012, Hypnosis Downloads has donated all proceeds from the cancer downloads and scripts to Make A Wish, raising almost £10,000. Thank-you to all of you who made this happen.
British Red Cross
In June 2012, they offered 3 month's proceeds from the 'Cure Needle Phobia' download and script to the British Red Cross, raising £364. This money will go towards helping victims of Hurricane Sandy in the Caribbean and United States. Thank-you to all who bought these products.
They also provide scripts or downloads free of charge to organisations who could put them to good use.
DePaul Addiction Clinic – Rochester, NY
When they launched '10 Steps to Become a Non-Smoker', they knew from the emails that the program has enjoyed great success. But they were even more pleased when they received an email from Robert Mick MD, Medical Director for DePaul Addiction Services, a large, public-funded, not-for-profit facility serving the addiction related health needs of the Greater Rochester, New York area.
A psychiatrist certified in Addiction Medicine and Psychiatry, as well as a student of hypnosis, Dr Mick has used both the courses and downloads offered by Hypnosis Downloads to further his understanding of hypnosis and to help refine his application of hypnotic language. For example, he used the script for Shy Bladder Syndrome to make it much easier and less embarrassing for patients to provide urine samples for drug analysis, an important monitoring tool in early abstinence.
Dr Mick now plans on using hypnosis as an aid for his patients to quit tobacco use and asked us if he could purchase the scripts for 10 Steps to Become a Non-Smoker. His clinic is currently applying for grant money to help convert it into a non-smoking facility – not only for the patients but also for the entire staff.
Hypnosis Downloads felt that this was such a great project that they donated the scripts, free of charge. One of the joys of growing as an organization is that it does give them the scope to do things like this – something that would not be possible without you. So here's wishing every success to Dr Mick and a big thank you to you!